Coastal and Waterfront Engineering
ANS has the in-house coastal and waterfront engineers and scientists required to respond to the coastal environment. They give the firm a unique niche through their ability to understand and solve complex technical issues related to land and waterfront development. The group often collaborates with planners and architects to assist clients in assessing overall project feasibility, site selection, value engineering, environmental permitting, preparation of final plans and specifications and providing construction phase services for final implementation.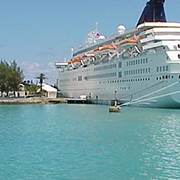 Marine Terminals
ANS's team of professionals has a reputation for providing innovative solutions to support any port, maritime, or freight transportation program. We successfully take projects from the planning phase and through the design, construction, and implementation phases. This includes the regulatory process, conceptual and feasibility analysis at the early stages of a projects life cycle.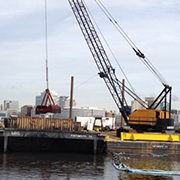 Dredging
From the feasibility study stage, ANS carries the project to a detailed design, including preparation of contractor plans, permits, and specifications, construction management, and on to the creation of post‐remediation restoration and management plans.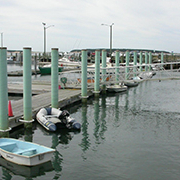 Waterfront and Marinas
Our specialized experience in waterfront structures combines coastal and waterfront engineering expertise with civil, structural, geotechnical, and ocean engineering. We have extensive experience in the inspection, design and construction management of a variety of waterfront structures including: Marinas and Harbors, Piers, Wharves, Quays, Waterfront Parks and Boat Ramps.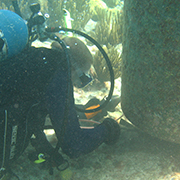 Facility Inspection
ANS Consultants has a team of engineer divers and registered engineers/divers that have expertise in waterfront structural engineering and design. Through our above and below water inspection program we offer clients condition assessments of their waterfront assets and provide engineered solutions focused on preservation of the asset and cost benefit analysis. Condition assessments typically result in capital improvements or rehabilitations that improve the utilization and safety of our clients' infrastructure.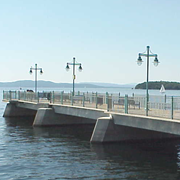 Permitting
ANS's staff can effectively communicate our clients' needs to the Regulatory Agencies, help develop plans and permit submittal packages that streamline the review process and result in quicker turnaround times. ANS works closely with individuals, organizations and municipalities to develop strategies to resolve issues of incompatibility, and negotiate project remediation when potential project impacts are unavoidable. We maintain strong professional working relationships with regulatory agencies and are experienced with federal, state, and local permitting processes quicker turnaround times.
Coastal Planning
Sea level rise and extreme storms are affecting thousands of miles of the U.S. coastline and trillions of dollars in vulnerable real estate and infrastructure. Across specialties, ANS is a one-stop opportunity for our clients to make themselves more resilient in the face of these challenges, which will only become more acute in the coming decades. We help answer difficult questions such as "Should we upsize our culverts?" "How do we go about elevating our working waterfront?" and "Is it worth it to build a seawall or should we just relocate the assets?" We then help implement the right solutions, whether they include living shorelines, bulkheads, or relocation of vulnerable assets. Among many other tools, ANS uses its proprietary COAST modeling software, initially developed through the US EPA, to help communities plan and mitigate risk associated with rising sea levels.
Coastline, Water and the Environment
ANS brings extensive experience in numerical modeling of the physical processes that challenge waterfront projects in coastal, estuarine and riverine systems. ANS's staff has in-depth experience in shoreline assessment and shoreline erosion control and prevention, particularly with projects that require a large variety of techniques to stabilize eroded shorelines, utilizing "Living Shoreline" approaches that are more environmentally friendly, lower cost to implement, and less controversial to get regulatory approvals. ANS also offers expert advice and services to help clients better understand and address the ecological issues relevant to their situation.